Main content starts here, tab to start navigating
Virtual Events & Private Tasting Room
Now Offering Virtual Tastings for Your Team, Business, and Friends!
Looking for a way to celebrate your organization's hard work? How about a fun way to celebrate friendship safely while we socially distance? Buon Vino has you covered! We've hosted Fortune 500 companies, cutting-edge biotechnology teams, all the way to bachelorette parties! If you're getting COVID-fatigue, we have the answer for you! Our unique, fun, and educational virtual tasting events have been a hit for groups large and small. The best part? We take care of EVERYTHING! Check out all you'll receive:
Half-bottle each of a white and red wine
Custom wine label design/printing (send us your team or company's logo)
Our special commemorative SIP shirt for you and your team to wear during our special tasting
One hour tasting with you and the participants over Zoom
Custom tasting worksheet to guide a fun conversation
Shipping of each package directly to event participants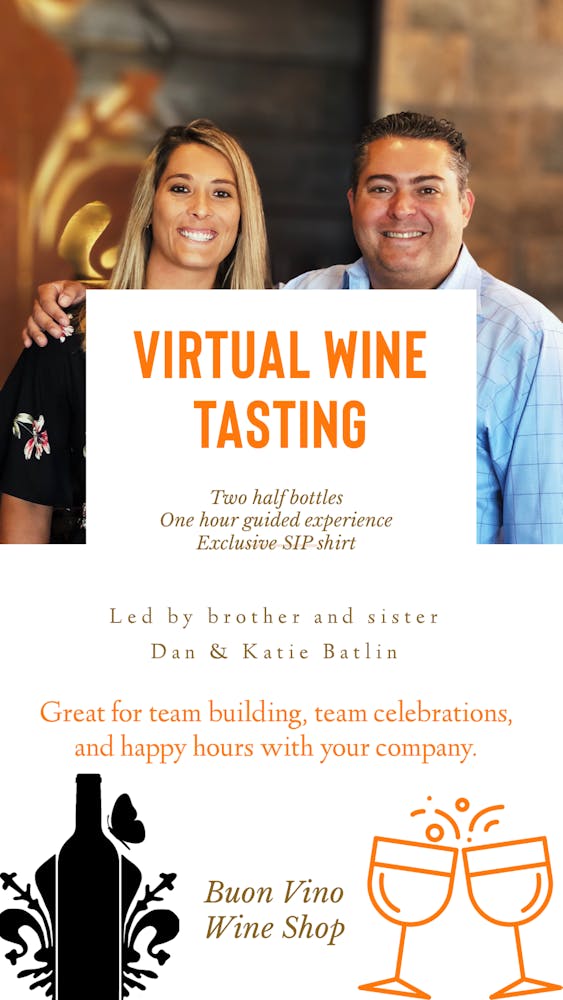 Email us today for more information! Just click the "Request Availability" button below!
Want to enjoy a guided tasting in your own private room in the heart of Walnut Creek?
Look no further than Buon Vino!
Ideal for birthdays, corporate events, team building, and friends' night out, our private tasting room gives guests the opportunity to enjoy Buon Vino in a beautiful environment. For $35/adult, we provide two hours' use of the room. We also include staff, water and will take care of set up and clean up. For those guests over 21, we provide all of our wines for tasting at no additional cost! It's the ideal way to celebrate any occasion! When you're ready to have a party at Buon Vino, please see our guidelines and policies and we will confirm your reservation.